The benefits of predicative visual intelligence  
What is predictive visual intelligence?
Artificial Intelligence (AI) has been used to help brands market effectively within the competitive advertising industry for several years. The average person is exposed to as many as 10,000 ads daily, where it takes as little as 0.4 seconds for the human brain to register an ad and generate a reaction. 
Predictive visual analytics is an AI tool which helps brands, creatives and marketing teams optimise the effectiveness of their visual content across multi-channel marketing, with AI-powered actionable insight. Predictive visual intelligence creates heat maps onto content, ensuring the key message is at the forefront of any campaign. Data for analysis and action includes eye-mapping gazes and customer thought journeys.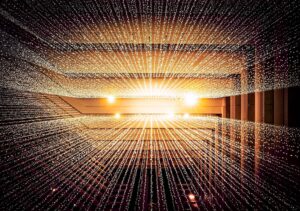 Predictive data modelling relies on years of previous established results to predict new patterns or behaviours when trialling new content. It effectively reproduces what it already knows from current and previous data, aligns this knowledge with the new content, and is then able to forecast predictive behaviours. 
Together, these bring us predictive visual intelligence, creating exclusive insights into the first few seconds of a human visual attention span, just before individual preferences takeover. It can be used across a multichannel of marketing, including video, website, email and static posts, as well as within shopper retail. The software has gained significant importance within the marketing industry, ensuring that key messages are optimised and personal bias to specific creative output is removed. 
What can it do? 
Predictive visual intelligence enables highly personalised, targeted multi-channel marketing campaigns that can be scientifically proven to resonate with the audience. Its ability to analyse and evaluate patterns and trends in visual data makes it easy for brands to gain deeper insights into customer preferences, behaviours and sentiments, providing a comprehensive understanding of their target audiences. A personalised approach enhances customer engagement with brands and increases the effectiveness of marketing efforts. 
In retail environments, predictive visual intelligence helps optimise customers' in-store experiences, giving brands competitor insights on how their products perform visually and supplying a deeper understanding of product placement within a retail store design. 
The main benefit that predictive visual intelligence gives the marketing industry is its ability to support the research and planning stages and subsequent creative ideation development. The tool helps us reduce the time spent recreating designs, making the process more cost effective. It also delivers confidence to marketing decision-makers because its findings are reliably supported with a science-based approach to statistics. AI validates design variations with statistics allowing brands to opt for designs with higher projected engagement. This enables brands to optimise their marketing assets, ensuring that key marketing messages are always being delivered. 
How do we use it to support our clients at APS? 
Let's imagine for a moment that we have created three variations of a poster, and we want to know which one is most effective at catching the eye of the casual passer-by. The technology is able to confirm that the key message is being delivered effectively by producing heat maps and tracking gazes and then providing us with statistics comparing the effectiveness of each of our three options. We can then use this data to support marketing decisions for our clients.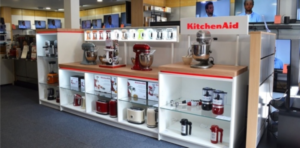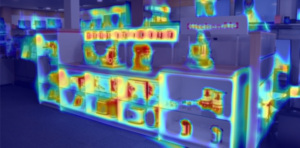 The image shows a heat map being used within retail, to confirm that the new KitchenAid Stand Mixer in the colour of year, Hibiscus, is positioned in the best location to draw customers in within the shop fit out. 
"The use of AI based technology at the forefront of our creative offering ensures our customers receive data-driven insights and achieve the best possible ROI on campaigns and projects."
Pete Gentle Creative Solutions Director The APS Group 
In conclusion… 
Predictive visual intelligence offers numerous benefits to marketing strategies, enabling businesses to make data-driven decisions easily to optimise their marketing efforts. It allows brands to gain deeper customer insights, create personalised marketing campaigns, improve customer experiences, optimise content creation and advertising, gain a competitive advantage and increase ROI and conversion rates. Using this technology, brands can confidently and effortlessly make data-driven decisions and achieve more impactful marketing outcomes. 
You can download the PDF version of our article below.
The benefits of predictive visual intelligence
The benefits of predicative visual intelligence